Introduction
LocalGood is rooted in appreciation, hope and love of artists and their passion for charity. It would take years to explain the series of events that occurred and the evolution of the site – but it would be a much better story hearing it from those who were part of the journey. For the next few weeks, we will tell the story of the amazing people who came together to rally around a mission. A mission focused on developing channels to help artists achieve sustainability by sharing themselves, their passion, and their support for community.
Over the next few weeks we will feature stories from the amazing people who have come together to create the LocalGood site. We invite you to follow along and learn more about supporting LocalGood.
Art Evangelist, Advocate and Founder of LocalGood – Desiree's Story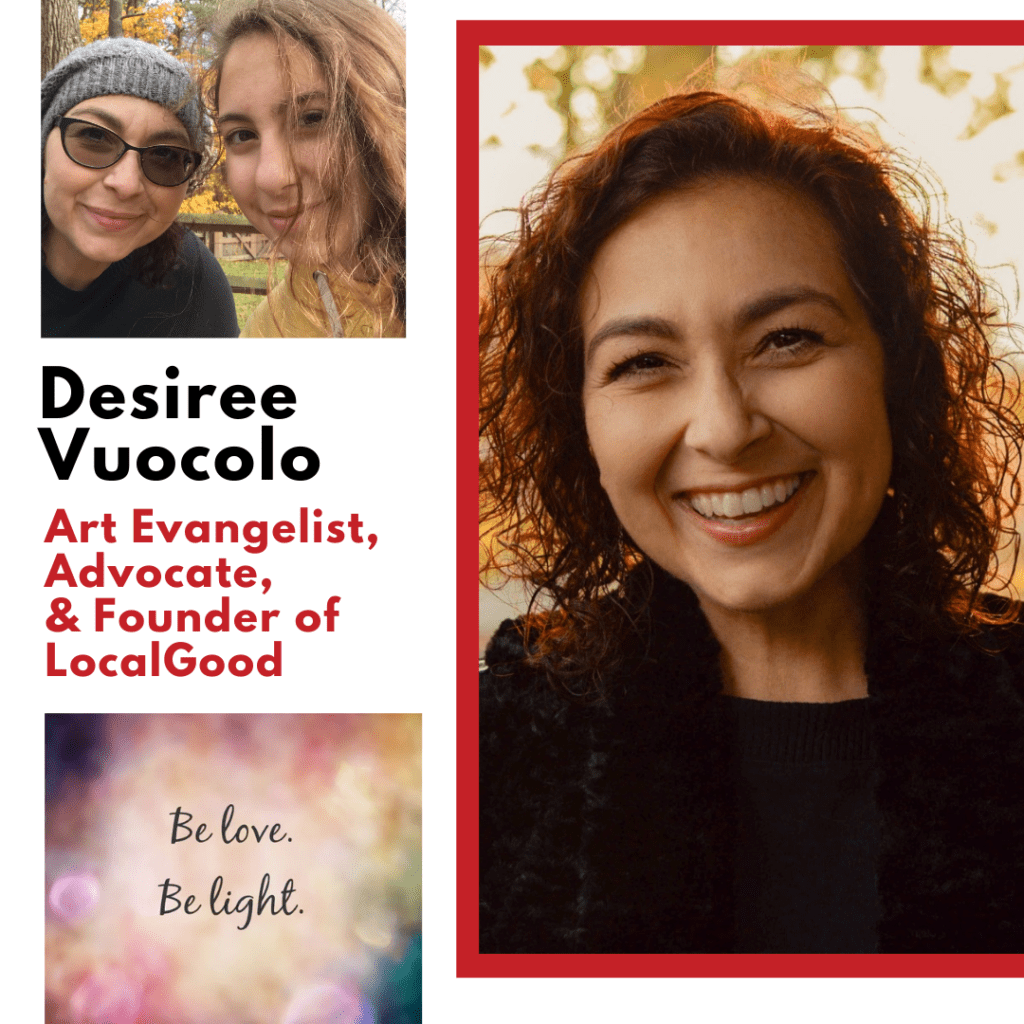 About 7 years ago I was on a journey of self improvement and chose art as my outlet. That choice connected me with lots of amazing artists and it allowed me to gain first hand knowledge of their struggle. The struggle to create, market, sell, and manage their inventory of work. It was as if artists were expected to be passionate, creative beings one moment and astute business people the next. What we as a society expect of an artist seemed unfair to me. We don't ask teachers to get advanced degrees, write text books, secure a building, furnish their classroom and market their services to their students. Yet we expect so much of an artist.
This realization was the spark that started LocalGood. It was born out of a desire to create a community of artists and supporters to leverage the knowledge that each brings to help the whole. The name, LocalGood, just came to me one day – it represented a commitment to artists in the U.S. and celebrated the great things that they do for their community, namely in the form of helping charities and not-for-profit organizations. Every artist I met on my journey had a charity they supported or freely donated their work to help support fundraisers for local causes. That generosity was the next spark in the creation of the business, donating a portion of the proceeds from each sale to the charity of the artists choice and matching all donations made by the artist, up to 10%.
While the vision for LocalGood has been lofty, the funds to create the site have not. I honestly wondered how I would ever finish the site until a serendipitous move changed my entire world. I relocated to Pittsburgh, PA for an opportunity with a large health insurance company designing programs that will help improve healthcare. The role put me in a position to work with some of the smartest, most genuine people I have ever met. Fortunately this is also where I meet my friend Rhonda Bolding. One conversation with Rhonda regarding my passion project set off a chain of events that led me to an amazing developer, a graphics design team, photographers, legal help and many more who came to the table willingly to donate their time and talent to make this site a reality – because they believed in the mission.
The site is intended to be an open platform that provides space for artists to showcase their work and all of the locations where their work can be found throughout the U.S. We encourage artists to list the shops, galleries and other brick and mortar locations where their work can be seen along with updates when they are in a show or art fair. This component of the site gives the artist a chance to promote themselves and reinforces our mission to help artists achieve sustainability whether or not the purchase occurs through LocalGood. This was very important to me because it aligns with my personal belief that we live in a world of abundance, LocalGood provides the ability for generous, socially conscience, people to find artists and charities to support.
Board Member, IT Compass, & Pitch Person – Connie's Story
Desiree and I have been friends for several years. She is a rare combination of poise and authenticity, fueled by a passion to make the world a better place. I heard her talk about her idea for a website several times but it took me a while to figure out what she was trying to do with LocalGood. It all clicked, about a year ago while we were at an art fair. I listened to Desiree explain her vision for LocalGood to an artist and they weren't really connecting on the core concept, and I finally blurted out "Des, you're a tech entrepreneur, starting a platform to connect Artists to new markets while raising money for important causes". It just popped out of my mouth. I was concerned that I took over, but after that, she asked me to give her elevator pitch to the other artists at the fair and I spent the rest of the night pitching her vision in my words.

Over the past few months I have helped develop some initial business communication, partnered with Desiree on recruitment, conducted technical reviews and helped with the deployment/soft roll out planning. I am excited to see the site launch because it's been such a hard time for artists this year;I am thrilled to connect these folks to a new way to handle the business of art, freeing them up to create without the need for travel. I think LocalGood has the potential to transform into a fully featured way for artists to manage sales, promotion, and inventory – all the boring business things. If we can do that while promoting and funding worthy nonprofits, LocalGood will be a success.

Apart from LocalGood, I have worked in the tech industry in Pittsburgh for over 15 years and can be found , spending time with my family, painting robots while trying not to kill all the plants that come into my life. Got lucky this year when my husband set up a drip irrigation system for me and now my basil is the size of a small shrub!
Board Member, Cheerleader, & Fire Starter – Rhonda's Story
I'm one of Desiree Vuocolo Canovic's biggest cheerleaders. She had a dream as vivid and bright as she is and one that artists around the country could benefit from. It's been my pleasure to serve as a source of inspiration. When she initially shared her vision with me I thought it was brilliant! I was determined to help her in any way that I could. The world needs a global exchange of creativity, hope, kindness and love!
I'm excited to witness the organic growth of a dynamic community of artists, philanthropists, organizations and supporters. Together, we can make a huge difference and now more than ever this platform can bring light to an otherwise dim world.

Working with Desiree has been a pure joy. I love her passion and motivation. The way she connects the dots to benefit so many people around her is awesome. I've enjoyed watching her plant a small seed and feeding it consistently, with love and patience, to nurture her dream to reality. I appreciate the invitation to join her on this journey and am excited to see what the future holds. There is nothing that can stop this woman! Local Good is here to stay.
Board Member, Photographer, & Wordsmith – Jaime's Story
Hey there! I'm Jaime, and I am the photographer who worked on the original site. I recently opened my own photography studio in suburban Kansas City! It's been far more challenging and far more amazing than I ever imagined it would have been, but it's a daily reminder for me of the great things that can happen when we choose to say "yes" to outrageous goals.

Similar to LocalGood, good things are worth the challenge. I initially began volunteering with Local Good by contributing photos of artists and their work when the initial project began in Kansas City. I captured images of artists in their workspaces to help tell the story of who they are, show the creation of their work, and photograph their art. I currently contribute to the review process for the design of the website.

When Desiree first approached me with the idea of LocalGood, I thought her idea was a perfect way to highlight uniquely talented artists and bring more attention to their work. As an artist myself, providing a resource to bring artists together and create an online presence focused on art and philanthropy is incredible!

I have been fortunate enough to know Desiree for well over a decade. Although we now live hundreds of miles apart, I continue to be inspired by her drive, creativity, heart, and radiating joy. She is an incredible woman who finds and creates beauty and connection in this wild human experience we all share.

I hope to see Local Good evolve into a thriving community of passionate and talented artists who connect with and support one another. The vision of this project is so deeply focused on goodness and positivity – I can see this transforming into hundreds of wonderful things!
Brand Identity & Graphic Design – Amanda's Story
The LocalGood project came to our attention through Brian Bronaugh, the President of Landesberg Design. He had met Desiree the year prior through a mutual connection. He agreed to help her with the brand identity and website development after the pandemic hit.
When I initially met Desiree she said one thing that stuck with me through this whole project: "There's enough for everyone." (This was in the middle of the great toilet paper hoarding of 2020)! I love that she is so passionate about creating these connections – without the sense of competition that I've seen elsewhere. That we all have something to contribute and we shouldn't be afraid of giving or helping.
As a designer, it's always exciting to see something you've worked on out in the real world – especially when it has the potential to make an impact for the better, and now more than ever when so many artists are struggling with the loss of in-person sales. I'm excited about seeing a community develop. I hope to see all the artists, nonprofits, and gallery spaces working together to help each other out and to create connections between them. We all win when we all help each other!
When I'm not doing graphic design, you can find me in my basement with my antique printing press printing linocuts, riding horses at a friend's farm, or playing with my puppy.
Contributing Photographer – Leanna's Story
I had the pleasure of documenting some of the art and featured artists via photoshoot. When Desiree first asked me to participate my first thought was: Wow – what a genuinely GOOD movement for artists. It just seemed like such a stunning way to create a community within a community; a way to network and help one another. I feel like there's no better example of "good" out there, really, than to support one another and raise each other up.
Truthfully I'm most excited to dive into the artists and their bios. I'm eager to hear about what makes them tick – their inspiration, their motive behind their creations. I think that's the most fascinating part of art for me. How it is inspired, and how it inspires others.
Networking in the art community (especially right now) is hugely impactful both for our businesses, and for our mental health. I'm hopeful that it will unfold into the passionately cultivated and true space that Desiree so lovingly envisions. She is a sweet, selfless soul. This world would do well with more humans like her. I'm proud to have worked with her and plaed my small part in her big vision, and I'm looking forward to seeing LocalGood grow.
I am Pittsburgh born and raised, 27 years; a proud dog mother, small human mother, and plant mother. I believe that life is better with meaningful connections, and I believe in always leaving people and places better than you found them. I'm a thrift store enthusiast by day, and a self-proclaimed rum enthusiast by night. Most importantly, I think that taking the "right" photo means making you feel something – that never ending search for photography that evokes an emotional connection is what led me here.
Contributing Photographer – Jimmy's Story
I'm a freelance photographer who worked on the site to offer support in terms of portrait photography for artists who'd like to show who they are as people, not just what they do. I provided portraiture so the community can "see" exactly who's making the art.

Art is beyond loved in the world today but in order to fall in love with a specific genre of it, one has to find it, and that's not always the easiest thing to do. I think the vision to promote local artists in a space where people can recognize one another is basically what attracted me to the idea. I specialize in photography and although it may differ from the general art form, every idea, in the world today, is art. And to promote someone's dream, someone's passion is nothing but amazing.

To have a hub for all things art and artist is going to be tremendous. To learn what's being created around you and to have a place where you can now find a love and passion for based solely on the form of art, is going to be astounding. Desiree Vuocolo Canovic has worked incredibly hard to get to this point. I'm beyond blessed to be a part of it!

I'm a cancer survivor of 21 years. Live every day like it's your last. Never be afraid to meet someone new, even if it means jumping into a project with strangers to create something new. I believe that LocalGood will become a creative space for individuals to come forward and share their work, even if they don't believe what they do, it's enlightening.
Project Manager Extraordinaire, Not a Robot Agency – Rikki's Story
I'm the project manager at Not A Robot Agency who helped build the ecommerce site for LocalGood! I'm currently a Louisville resident and with everything that has been going on, I've been missing the PGH art scene and the festival on Walnut. I can't wait to order something from LocalGood for myself to bring some art back into my world!

I'm so thrilled to be working for such a great cause. Desiree's vision is so unique! Of course, she's been thinking about this project for so long, but it kicked off in such a timely manner – with everyone going online now. I love the twist Desiree brought to the seemingly common idea, and so happy to have been a part of building it with her. Can't wait to see what this turns into and I will be thrilled to see the first successful sale!